Dave has apparently moved on.
Dave has been a project since we started this blog.
Linkedin shows the Archdiocese Social Action Office as "Previous" work experience.
58. Dave Scharfenberger's WIN Action also gets CCHD Cash.
177. Proof...Archdiocese of Cincinnati, they are participating in scandal !
I guess Tony pops him out on occasion for guest appearances.
As it shows he retired in June, but was still advocating for illegal aliens in August.
You will notice he still keeps his hand in the organizing game, below.
I hope he and Tony come back with sister Monica McGloin to protest Kroger.
I really missed them this year.
When I talked with CIW they confirmed that the Archdiocese Social Action Office had
organized the past protests against Kroger.
Yes, that looks like Dave Scharfenberger and Tony Stieritz, from our Archdiocese of Cincinnati Social Action Office.





For some reason Tony and Dave were unavailable this year.
I sure hope they can invite the nuns on the bus back in 2016.
I get the feeling change has come.
Sammeerah Ahmad and Sister Alice have retired as well.
Please send your thank yous for Dave's Year's of service to our Church to the
WIN Action address.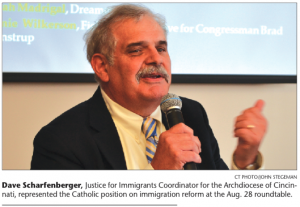 By John Stegeman
The Catholic Telegraph
http://www.thecatholictelegraph.com/archdiocese-represents-church-position-at-immigration-event/16016
Leaders from business, faith and law communities came together Aug. 28 for a pair of roundtable discussions on
immigration
at the Freedom Center in downtown Cincinnati.
The event was sponsored by the Bibles, Badges, and Business (BBB) network, an alliance of conservative business, law enforcement and religious leaders who advocate for immigration reform.
The Archdiocese of Cincinnati was represented in the afternoon session by Justice for Immigrants Coordinator Dave Scharfenberger and by Director of the Catholic Social Action Office Tony Stieritz in the evening session.
Coordinator of Outreach Ministries at Community of Good Shepherd
Cincinnati Area

Civic & Social Organization
Current

Community of Good Shepherd

,

College of Mount St. Joseph

Previous

Catholic Social Action Office, Archdiocese of Cincinnati

Retired

Working In Neighborhoods

,

Education
Uploaded on Feb 8, 2010
WIN Action Organizing Project Action against predatory payday loans in Cincinnati.
Phone Number
513-541-4109
513-853-3844 (fax)
Staff
Dave Scharfenberger - Lead Organizer
dscharfenberger@wincincy.org